Awards
ILight Marina Bay 2012
3rd Winner Ilight Marina Bay 2012 Photo Competition.

Photography Competition
9 to 27 March 2012
Capture the magical atmosphere created by the light art installations around Marina Bay and stand to win attractive prizes sponsored by LUMIX!
1st Prize: LUMIX GH2 worth $1,499
2nd Prize: LUMIX GX1 worth $1,299
3rd Prize: LUMIX G3 worth $1,099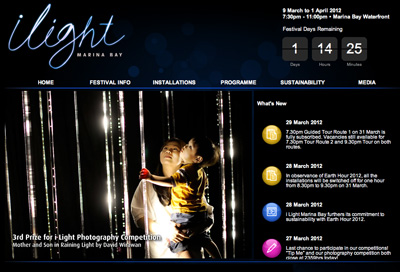 Singapore G1 2012
3rd Winner Live Green Photography Contest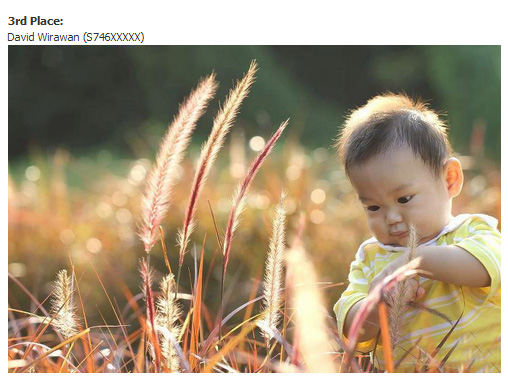 Canon EOS Night Festival 2012 Photography Contest
TOP 5 Photos

CapitaLand National Geographic Channel competition 2012
2 Photos in TOP 30.
Top 10 VISA Olympic Photo Competition Beijing 2008

男子突然爬上来站在桥顶。我捕捉到了这个瞬间。看来他第一个爬上了最高点,摘得桂冠。
"Visa动感光影大赛"是一次向整个亚太区Visa持卡人开放的业余摄影比赛,大赛于2007年9月6日正式启动,以"更快"、"更高"、"更强"和"中国"四个类别为主题,同时,由于2008年的奥运会时在中国北京举行,所以参赛者提交的作品还应表现"中国"这一元素。从2007年10月到12月分四个阶段征收各个类别的摄影作品,最终从提交的一千多幅作品中评选出了四个类别的优胜奖。来自中国的两名参赛者黄任和杨焕敏分获"更快"和"中国"两个类别的优胜奖,并各自赢得一份北京2008年奥运会双人套票一份,以及5000美元的奖金。
下面是本次大赛优秀作品展示之更高

Speaker at National Geographic Indonesia Forum on 28 February 2009 in Jakarta Convention Center.
Digital Camera World

Issue 51 October 2005
Photographer of the Year 2006
Theme: The Art of Travel
Highly Commended.


Royal Palace
"A most surreal reflection, almost a flying carpet. Totaly Original and superbly different slant on what travel photography should be all about"
Daily Deviation. Deviantart.com

 It's hard to believe 
White Beauty
 was shot by ~
vids
 on this planet. It is fascinating to see what kind of 'aliens' we share our world with. ( Suggested by ~
illiyun
 and Featured by `
hesitation
 )
Orientales Magazine


Travel Photographer Contirbutor
Singapore City Gallery


The Hornbill at rustic Publi Ubin
Second Winner: August 2007 Photo Contest

Second Winner: March 2005 Photo Contest

Photo Exhibition
Gyeongnam Art Museum, Gyeongnam, Korea January 2012.
Contemporary Indonesian Photography  Exhibition
Part of Gallery Photography Indonesia, With Jeffry Surianto (Founder of GPI)
Special Thanks to Jeffry Surianto to invite me to this Exhibition.
The Indonesian Contemporary Exhibition
Gyeongnam Art Museum (curator giminha), the following 19 January to 18 April 2012 The exhibition
Indonesia, through contemporary photography, we can enjoy the natural beauty of Indonesia, as well as those living in our place on earth, the sea, their culture and a glimpse of life can be like. In addition, their specific ethnicity of the optimist can feel relaxed and will be an opportunity.
David Wirawan located in the eastern part of the Indonesian island of Java volcano Bromo (Bromo) and located in the south of Bandung (Ciwidey) traveled to Indonesia and the majestic mountain scene captured in pictures. His photos give a serene feeling of awe for the natural environment
Indonesia Archipelago Paradise Of The World 2008. Photo ExhibitionManan Foundation, in association with Ministry of Culture and Tourism of Republicof Indonesia hold its secondyear Archipelago Festival 2008 "Bring Indonesia to the World"

The International Photo Competition 2008

The Sydney Photo is 1 of the 70 TOP photos that be displayed in Grand Indonesia on 11-13 January 2008. The International Photo Competition 2008. The Theme: Shutter and The City.
Insect Behavior Photo Exhibition. At Octagon Gallery Jakarta 2007.
Sokagakai Japan Culture Center Photo Exhibition.
Theme: Dialog With Nature
Jakarta 2006
Part of Indonesia Photography Organisation (IPO) that was arrange by Triyudha Ratulangie Ichwan
Pontianak  1 March 2007.


"Untuk karya fotografer IPO, foto yang banyak mendapat perhatian pengunjung adalah karya David Wirawan, dengan judul God, I'm here…. Dalam karyanya, David merekam polah tingkah seekor semut yang terlihat menengadahkan tangan, seolah sedang berdua kepada Tuhan YME" : Pontianak Post
FK Club 'Colour of Life' Photo Exhibition
at Daniek G.Sukarya Gallery, at Kemang, Jakarta.  July-augustus 2005.
Humanisme Photo Exhibition, Theme: Tolerance.
At Ministry of Defense place, Mr.Juwono Sudarsono, Jakarta 2005.
Contributor
Ca Bau Kan – Nuansa11 Offical Photographer. Singapore
Special thanks to Adinda Mutiara Sabila and Alika DV Tuwo
http://pinus-nus.com/post/nuansa.2011.ca.bau.kan.musical
IPA Social Innovation & Entrepreneurship Awards 2011, Official Photographer. Singapore.
Publication 
MyPaper Signapore Newspaper, 28 June 2012.

Ca Bau Kan, Nuansa 2011
Jakarta Post, Sunday, 20 November 2011.
Article by Alika DV Tuwo.
 U-Life Magazine (China)
Congratulations! The magazine U Life (China) has made a request to use the photo which you have submitted
for the Earthkeepers 2011 Photography Contest
PT. Hiba Utama


2010 Calendar
PT (PERSERO) PELABUHAN INDONESIA II.
INDONESIA  PORT CORPORATION II


2009 Calendar
Majalah Burung Indonesia
Edisi: 2/TH.III/April 2009
"Tak Semua Burung Berkicau"
Special thanks to Fahrul Panama to invite me become contributor

Pakubuwono Residence
Photo used for marketing in Kompas Newspaper, 15 October 2005

Umbul Umbul Magazine. Lippo Karawaci
Cover magazine and Photo article
Special thanks to Mr. Gatot Boediman.